Weddings are magical!
As a little girl you may dream of your wedding day! Playing dress up and pretend to walk down the isle! Sometimes even wearing your mother's wedding dress, if she still held on to it! It's just so sweet! Putting a towel on your head to make it look like a veil. Maybe carrying a hair brush in both hands, disguised as a flower boutique, as you wall down the hallway of your house, acting as if you were at a chapel getting ready to say your vows!
There are several ways you can have an affordable wedding. Choosing how you want to spend your budget has many options. You may not have a budget, then this post is probably not for you! But if you are like most of us, using our money to get the most bang for the buck, then this inexpensive wedding decoration post is just for Y O U!
Deciding on the location! It seems like if you can decide on where you want to have your wedding sometime determines a lot of the other decisions. If you are interested in a destination wedding then finding the low season can save you a lot of money. The resorts are trying to fill their rooms during this time so they usually have specials running and if they have wedding packages they are usually priced lower during this time. It also helps to be conscientious for your guests if you are inviting guests. They don't have such a huge expense either when they come for the big day!
If you have a venue in mind, and if it is a popular one, they may already be booked when you had in mind for a date. So, if you are more concerned about the venue than the date, booking the venue first is the best option for this scenario. Having the flexibility of several dates available will make it easier on your venue choice.
Back in the old days, like when I got married, over 25 years ago. We got married in a church, usually the one that we were attending or that we had grown up in. It had sentimental value. It might even be where your parents or grandparents got married. This option may be more about how you want to honor the past with your new marriage. But, churches were free back then to get married in, you might just have to pay for a cleaning fee.
This wedding that we decorated for was for a family friend and we were so honored to get to be a part of their big day! When your day to day lives involve watching your best friends kids grown up all together, it is so special to get to be a part of one of the most life changing decisions they will ever make.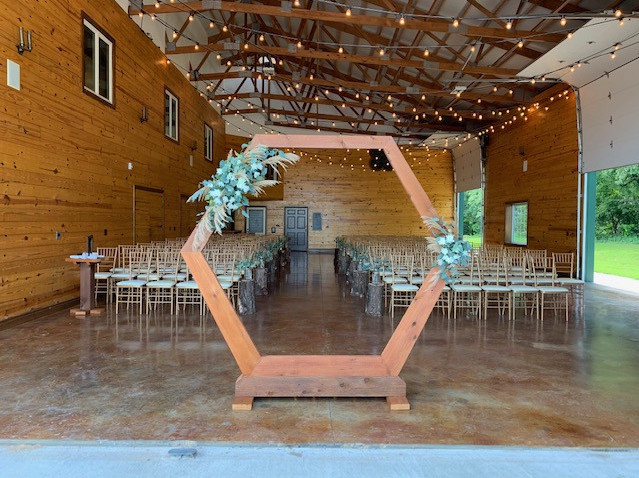 The brides father made her ceremony statement piece. It was an octagon that he made out of wood, stained it and it was the center of the wedding. I can't image what a treasure that was for her to be standing in front of such a foundation center piece that would start their marriage off on a solid rock.
Fresh green eucalyptus was the dominate flower that was featured throughout the wedding decor. We ordered several buckets of it from the local flower shop. It came in long lengths and so it was very easy to work with for arrangements. Having a small floral focal point in the center angle and then complimenting it with a larger one that we zip tied to the angle on the opposite side.
This made for beautiful pictures during the ceremony and after as well when the bride and groom posed for their marital pictures. The base was very sturdy and so there was no worry of it falling over and being too weighted down. The pampas grass added dimention to the floral and since it was a summer wedding it was light and airy.
The really cool things about this octagon that her dad made is that, one of the other sibling have been married in front of it as well. Doesn't it just make you stop and go, awwwwwww!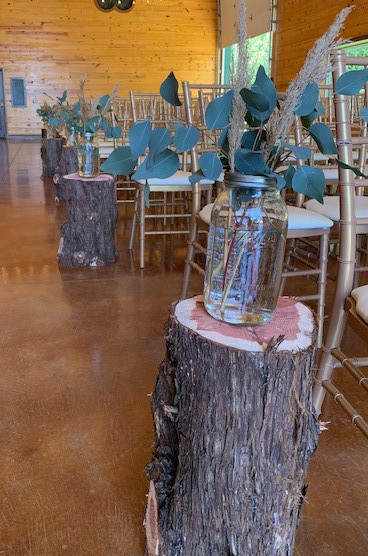 Lining the isle as the family, wedding party and bride and groom walked down the isle were these tree stumps. Again, the father and the brides brothers all went out one day and cut down some trees to make these stumps for the isle. They were freshly cut cedar trees and I think added an element of dimension with the bark, the cuts on the sides where they took the branches off and then the colors in the trunk. It was very raw but was the perfect place to set the vases.
We put Mason Jars with the rings on them on top of the stumps. They had eucalyptus cascading out of them with another whimsical pampas grasses for more texture and height aspect.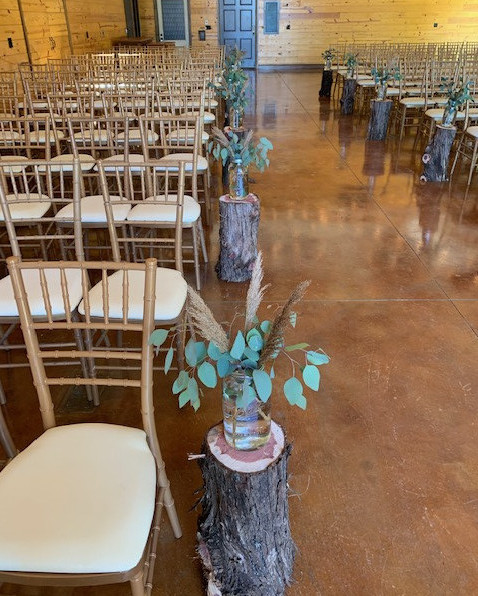 We lined both sides if the isle with the stumps and vases. We alternated every other row of seats but went from front to the back of the ceremony. It was so pretty watching her walk down the isle with the greenery adding a bit of color against her white gown!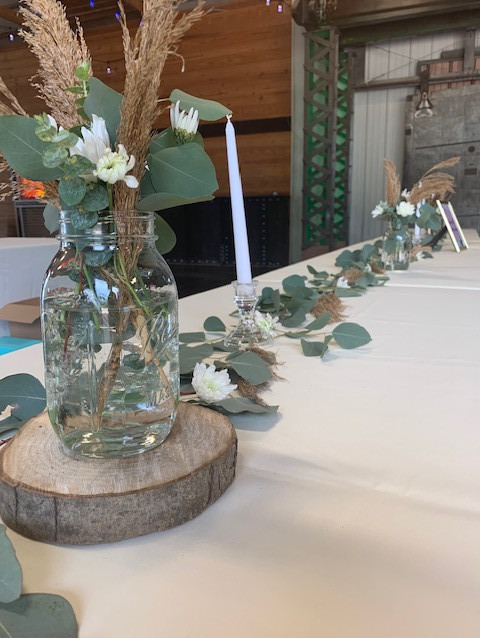 The venue provided all the chairs, the tables and the table cloths for the tables. The tables were all square 8 foot long tables and they were all lined in long runs of tables to fit the amount of people for the reception at this venue. So each table was covered in their white table cloth and adorned with the fragrant eucalyptus going down the center of each of the tables. Each table also had a small round wood chunk that hosted the Mason Jar vase.
Also, on the reception tables, we added some white daisies along with more of the pampas grass. There were clear glass candle holders with white taper candles that were sprinkled all up and down the tables as well. The candles were not lit ever during the reception but looked really pretty as decorations on the table. They added a dramatic touch without much expense.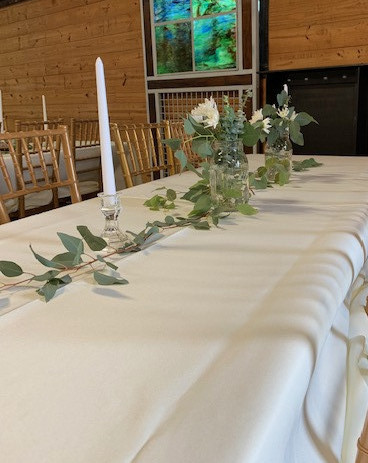 So simple and pretty but still looks like you have decorated each and every table. No table was left out!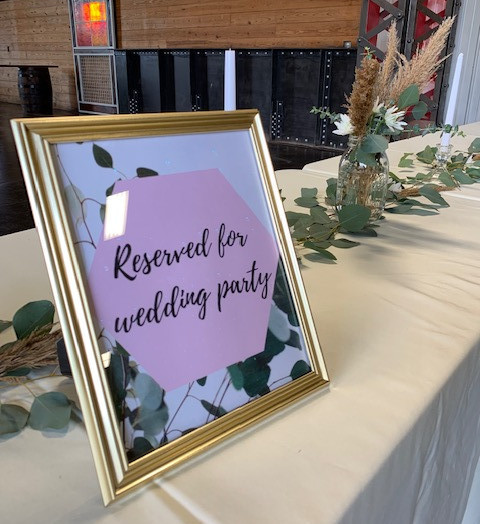 This wedding party ate, drank and danced the night away without a worry in the world! Their wedding venue was perfect, their decor was charming and they were going to live happily ever after!
These simple wedding decorations that you can DIY yourself make a beautiful wedding! The time that your family can spend going out and cutting wood, building center pieces and gathering up Mason Jars will also create memories that will last a lifetime! Taking some of these ordinary elements and making them into an extraordinary wedding was a pleasure!
Clarie