This is an Easy Day Trip to Durant, Oklahoma for Seniors
I took a group of widow ladies from our church for a day trip to Durant, Oklahoma. The day was sunny, warm and breezy a great day for a Day Trip! The first stop on our day trip adventure was to stop at the Choctaw Curltural Center. The list of things to do at the Curltural Center were:
We arrived around 11:30 and it is a beautiful entrance into the Choctaw Cultural Center. The landscape was manicured to perfection and the building is very appealing from the highway! We followed the signs to the visitor drop off where we were able to pull into a designated area where we could unload our sweet widows from the bus. We stopped for a quick photo opportunity and entered the center.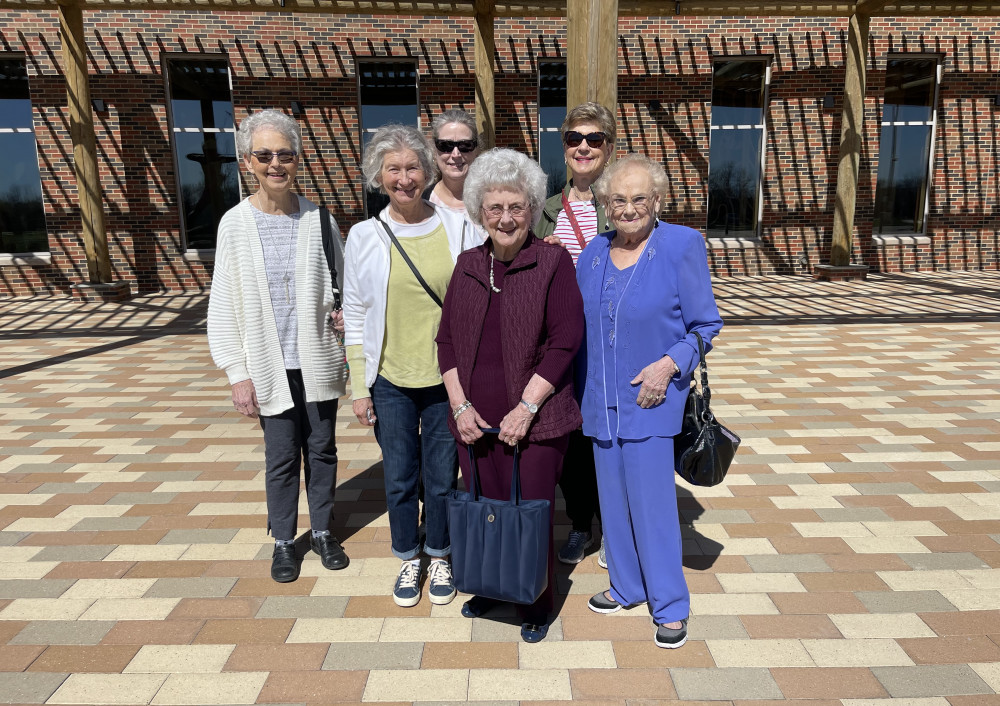 Like most of us after traveling want the first stop to be to the powder room! For us, it was no different! There is a very large capacity restroom as you come into the main building. There were lots of opportunities for a large group of ladies to freshen up and get ready to enjoy our day at the Cultural Center.
I had emailed ahead of time from the Choctaw Cultural Center's website to let them know our group was coming. I did it last minute the day before and they responded very quickly to my inquiry of our group coming. They were very accommodating to us even with last minute reservations. The link for the groups and tours click here. There was a staff member that greeted us as we came in and directed us to the front desk where we needed to register.
The group rate was the same rate as the senior citizen rate which was fine. The convenience however was that one person could check in the whole group and get our bracelets for entry. So if you have a group, I would recommend still filling out the group form.
After checking in and putting on our bracelets then we were given a pamphlet with the map of all the areas. The staff told us where to start and then directed us to a small movie room to watch the movie. Then she said we would make our way through the rest of the center from there.
The small movie room had a short movie giving us the past, present and a look into the future of the Choctaw Nation. It was very informative and was good quality! From there we moved into several rooms where there were life-sized trees, people and animals. Everything is very life like and has great descriptions of what they are portraying throughout the self guided tour experience.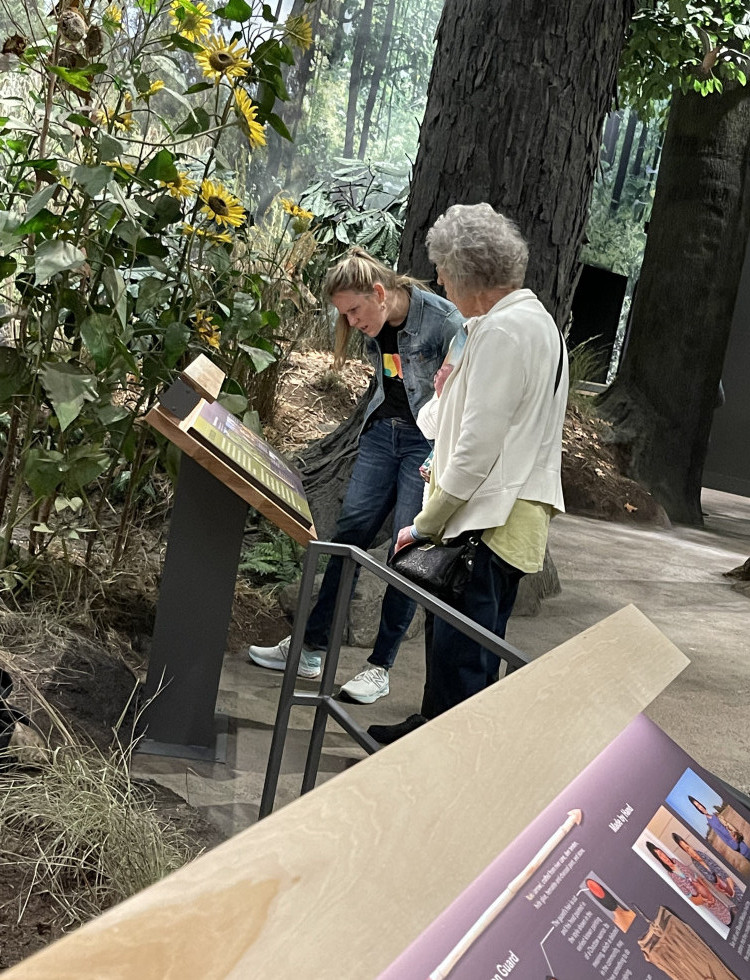 Here are a couple of ladies that are reading the description of what they are looking at.
After making, it through about half of the Cultural Center we wanted to take a break and eat. There is a cafe in the Cultural Center called, Champuli Cafe. "Champuli means "delicious," and our chef has created a special menu for the café that is sure to live up to that name. Some of the dishes on our menu have been passed down for hundreds of years, while others have a distinctly modern flair. There is truly something for everyone." This quote was taken off the website. Lunch is served from 10:30am to 4:30pm and it was very good! Several of the ladies got Indian Taco's, there were several hamburgers and french fries ordered and a side of Grape Dumplings was shared by all! The chef's did not disappoint! It was a perfect time to sit and take a break and relax. There is plenty of seating for groups and individuals alike!
After our lunch break we continued through the Cultural Center and made our way through the gift shop as well. The Cultural Center is a piece of art in itself! There is no way to describe the amount of detail they put into building it! The Choctaw Nation should be very proud of it and I would recommend going to enjoy everything it has to offer.
What Was Next On The Agenda
Next we headed to Downtown Durant! Durant has a small town downtown feel with lots of specialty shops. Our first stop was The Kopper Kettle Shop. It is a unique kitchen store! And when I say unique, I mean, they have every gadget you need for the kitchen! Even if you don't like to cook or to be in the kitchen, you will after being in this store! It is jammed packed with all kinds of gifts, unique items and something for everyone that would have anything to do with the kitchen. It's so fun you have to go check it out! They are located at 215 West Main Street in Downtown Durant.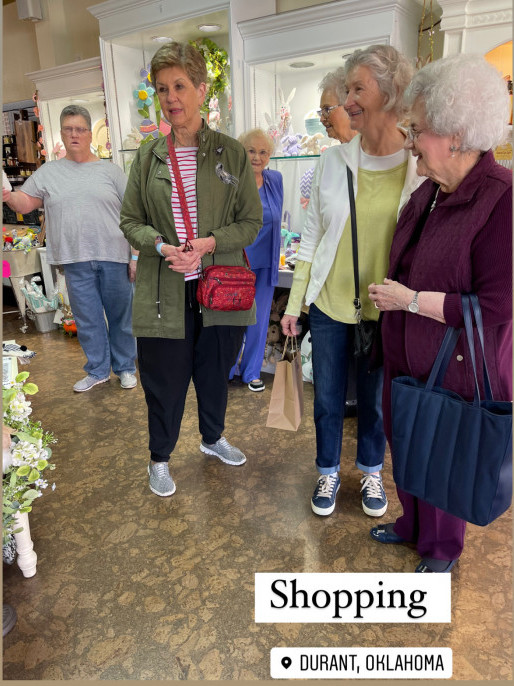 Well it was getting late in the afternoon and we were almost ready to head home after the kitchen store until we spotted Caked Up ! It was the cutest bakery located just down the street from the Kopper Kettle Shop on the street corner. They have outdoor and indoor seating which was again perfect for this group of ladies that were ready for another walking break. They had fun unique cupcakes! I commented on the dollop of green frosting mixed with chocolate chips sitting on top of a chocolate cupcake, and she mentioned it was a seasonal cupcake. It would be going away after March and it was there for St. Patrick month. They had cake pops, cookies of all flavors and did I mention the most mouth watering cupcakes!
There was also a self serve cooler with glass pop bottles that ranged from Orange to Creme Soda! One of the ladies ordered homemade ice cream in a cup! She said it was delicious! I did order a watermelon hibiscus iced tea and one of the ladies ordered lemonade. They made each cup fresh and it was very tasty! A perfect way to end our Day Trip To Durant, Oklahoma!
Go get out and enjoy your day in Durant if you can! It was a great day and everyone enjoyed it a lot!
Clarie