Looking for some easy fall decorations that is not complicated?
Here are 7 Easy ways you can add fall to your decor!
Let's get started!!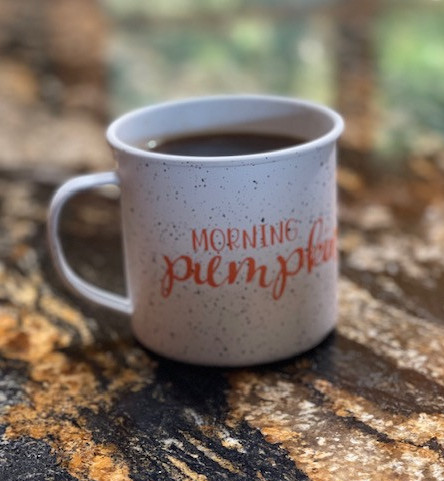 1. Fall Dishes. This part might be the hardest part of decorating for fall. Getting the coffee made! Grab that fall coffee mug that has gotten pushed to the back of the cabinet, dust it off and add that pumpkin spice creamer to your cup of coffee. This will get you in the mood to start your fall decorating!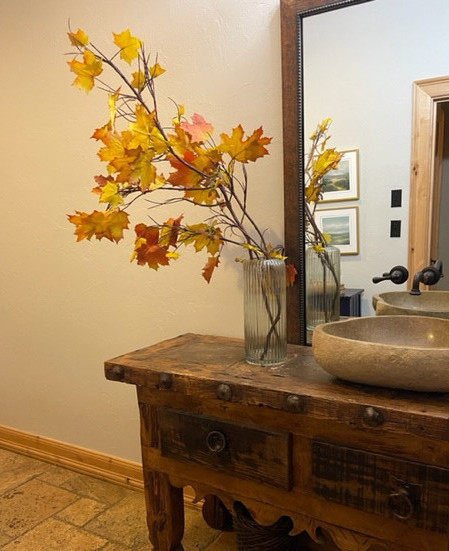 2. Add Branches with fall colored leaves. This vase was already being used in the powder room so I just added fall branches with orange, yellow and red leaves to make it feel like fall had bloomed in the powder room!
3. Put a Swag on your Mantel. I didn't change anything up on my mantel except add this fall swag. This fireplace is in the dinning room so it looks good with the pears, grapes and berries that's on the swag.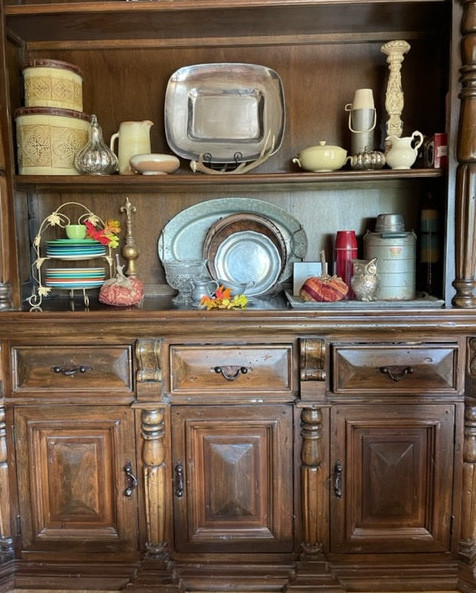 4. Themed pumpkins. On my buffet I keep my fiestaware out and ready to use! I made sure that I had my green, orange and light green plates at the top for display. I like displaying my thermoses usually year round. If I have any other serving pieces that have fall colors I make sure they are moved to the front as well. I have some fabric pumpkins. They are not identical but have the same feel and look, so I always use them in the same area. I split them up and added some other glass fall decorations that seem to go with dining room dishes as well.
5. Find a unique color to match. On this book case I have a decorating book, a family picture and other accessories. I had gotten this unique deep purple small pumpkin that would be lost if I used it anywhere else. Adding it to this bookcase where it has the same color theme, it works perfect.
6. Mix and Match. All the other left over pumpkins that you have added some greenery to a surface and stagger them. I have an antique buffet in my living room and so I just added the left over pumpkins I had. I put the large ones by the small ones and put them in groups of 3 if you have enough.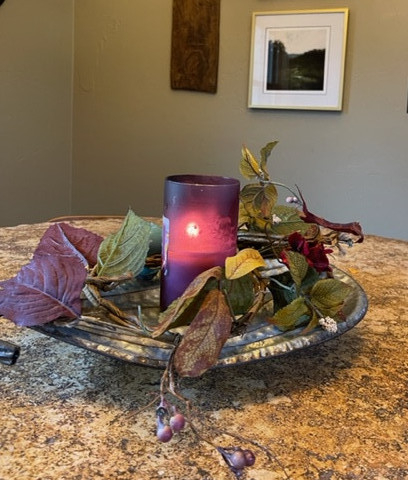 7. Centerpiece. I don't know about you but I keep a candle burning anytime that I'm at home. It just makes the space seem peaceful, it adds a great smell to the room and it looks pretty! So I had my candle already and just added a small wreath and put the candle in the center of it! You can add a charger or not, either way, it will be a nice addition to your table.
Happy Fall Ya'll – There I said it, now you won't have to hear it from me again!
Clarie