How to Host a Graduation Party for Your Church Graduates
Graduation is a time of celebration, and what better way to celebrate than with a party? If you are part of a church, you may be wondering how to host a graduation party for your church graduates. Here are a few tips to help you get started:
Choose a date and time. The first step is to choose a date and time for the party. You will want to make sure that the date works for the graduate and their family, as well as for the rest of the church.  I planned it early in the month of May so it wouldn't interfere with any of the actual graduations or family gatherings.  
Set a budget. Once you have a date and time, it's time to set a budget for the party. This will help you determine the size of the party and the type of food and decorations you can afford.  If the church doesn't want to help with the budget then ask a few of the families in the church to help out! 
Choose a location. You will need to choose a location for the party. This could be your church, a local park, or even your own home. If you are hosting the party at your home. Just consider the graduates will be inviting their family and friends, so having a location large enough to host everyone would be the main goal.
Send out invitations. Once you have all the details figured out, it's time to send out invitations. Be sure to include all the important information, such as the date, time, location, and RSVP information.  I made an invitation off Canva  and individualized it for each of the graduates families.  I sent it to them in a PDF.print so they could print, email or text to any of their family or friends that they wanted to invite.  I then added added all of their names to the same invitation with all of the graduates names on them and sent it to the church to put in the church bulletin.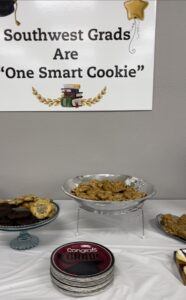 Plan the food and drinks. You will need to plan the food and drinks for the party. This could be as simple as ordering pizza or as elaborate as cooking a full meal. Be sure to have enough food and drinks for everyone. I choose to have pizza catered by a food truck. I then had some of the members to make cookies for the "Smart Cookie" bar.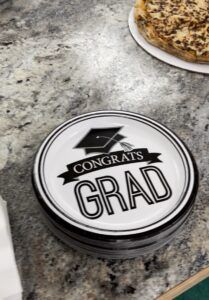 Decorate. You can decorate the party space to celebrate the graduate's accomplishments. This could include balloons, streamers, and posters.  This party I used the main school colors of the graduates.  I thought it would be fun if we had disposable cameras on each of the tables for people to take candid photos.  I had got some old books and covered each of them white to use for centerpieces to add some height to the signs and tables.  I added a mini globe that I ordered off Amazon and then a graduate sign as well.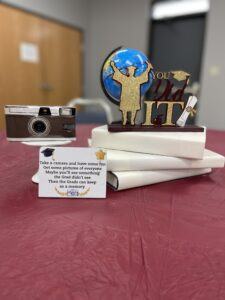 Take pictures. Be sure to take pictures of the party so that the graduate can remember this special day for years to come. I also added a photo booth. I had some pendants made for candid photo's. One said "Grad", the other "2023" and the last one said "Congrats". The grads can hold the signs for the disposable camera's or their own cell phone photos.
Have fun! The most important thing is to have fun and celebrate the graduate's accomplishments. This is a special day for them, and you want to make sure they enjoy it.
My church family is a group of people who are there for me through thick and thin. They are my spiritual support system, and they are there to help me grow in your faith.
There are many ways to show your love for your church family. One way is to attend church regularly. This shows that you are committed to your faith and to your church community. Another way to show your love is to volunteer your time. There are many ways to volunteer at church, such as helping with the children's ministry, cleaning the church, or serving meals to the homeless. You can also show your love by being a friend to others in your church family. Be there for them when they need you, and offer them support and encouragement.
One special way to show your love for your church family is to host a graduate party for them. This is a great way to celebrate their accomplishments and to show them how much you care. When you host a graduate party, you are not only celebrating the graduate, but you are also celebrating the entire church family. You are showing them that you are all a part of something special, and that you are all there for each other.
Clarie