I just love planning and organizing!
So planning out this, "Miss to Mrs" wedding shower for Carlie was going to be so fun!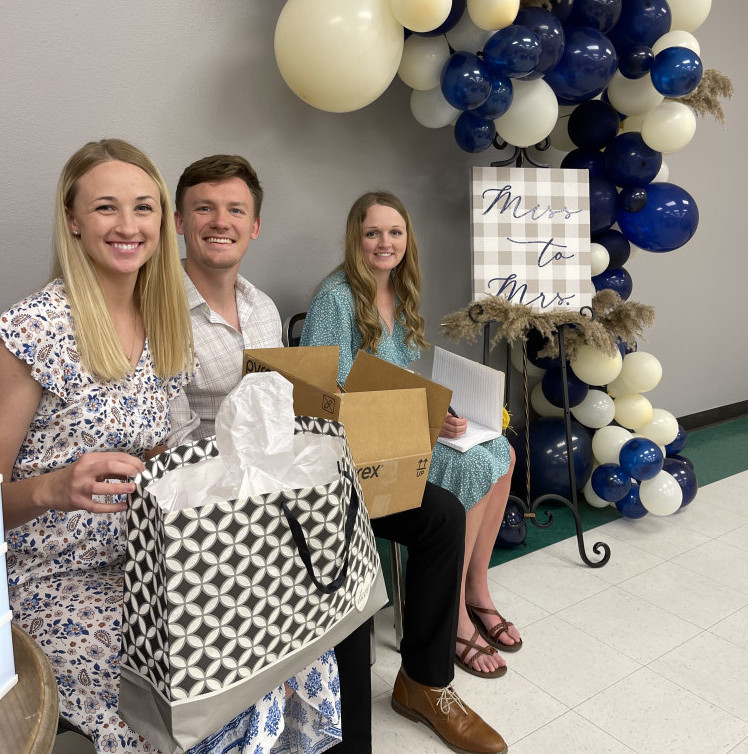 Carlie is our youth ministers fiance from church and super sweet! I wanted to throw her the best shower!
The colors for her wedding are navy blue and rust. It's a beautiful color combination! However, when you are picking your colors for any occasion but especially your wedding. Make sure you pick flowers that naturally grow that color. There are not navy blue flowers or rust colored flowers. So then you are having to introduce other colors to make the flowers match! Just a tip and something to keep in mind!
I got access to her Pintrest board, which is always super helpful! I was able to see what she had been pinning for her wedding and knew what kind of specific details she was going for. She had pinned a balloon arch at some point and I knew she wasn't doing a balloon arch in the wedding. So I thought that would be my focal point decoration and I would customize the rest of the decorations around it.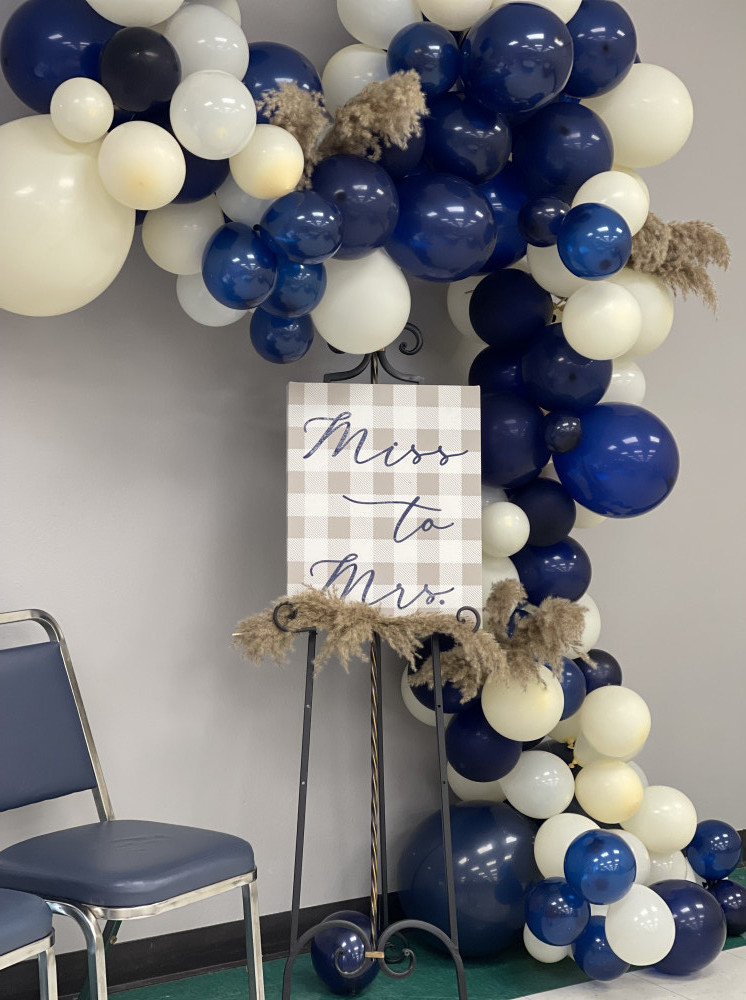 I ordered navy blue and cream colored balloons for the arch. I have a balloon inflation pump to blow up the balloons. A must if you are doing an arch. I usually do my arch the night before my party. I always start with the largest balloons on the balloon arch strip. The balloon kits usually come with three different sizes. It's very important you use the balloon arch strip! I have done a balloon arch where I used chicken wire and let me just say, GET THE STRIP!
I also found faux canvas art with a checked print on it. It was white with light gray checks and it was on the clearance rack at Hobby Lobby! It was a 16×20 so it was a nice size. I had the girl in town that has the scrapbook store make letters that would stick on the art. I decided I could use that for lots of different occasions! All kinds of signs for wedding showers or baby showers! Just anything, I was so excited when I found it! Anyway, back to my story, I used that sign and had her put "Miss to Mrs." on it! I used navy blue and it looked so good as a center piece beside the balloon arch! I used the same font for the Miss to Mrs. for the letters for the sign as the napkins I found.
For food, I had some volunteers that wanted to help with the shower as well, so I had them bring all the items needed for the charcuterie board. We used the entire serving counter at church and covered it in butcher paper. We used that as the base for the charcuterie board (even though we didn't actually use a board)! We had 5 larger items for the board and we used them to anchor the smaller items. We placed all the other goodies around the anchor items and built it out from there. No silverware was needed and we just placed tongs out for people to help themselves. We also had a cake platter that we embellished with navy blue ribbon and we served cookies from it.

When I am getting a party together or planning it out. I start with my theme. Wedding was this theme and I had found the napkins that said Miss to Mrs. and I thought they were cute so I went with those. I try to pick 2 colors to decorate with and base everything off of those 2 colors. Even on the charcuterie board we had blueberries for the navy blue. The butcher paper kinda represented the rust color. Planning out the centerpieces, the main focal point and working everything out from there. Asking for help is always necessary because it's always funner to work with others and let them add their creative touches as well. Just give them guide lines and give them a visual picture of what you have in mind and let them take it over! It's a win win for everyone!
Carlie loved the shower and we loved showering her with a Miss to Mrs. shower!!
Now lets get them married!!
Clarie