Looking for a way to decorate for a wedding? Here are some simple and easy to find materials.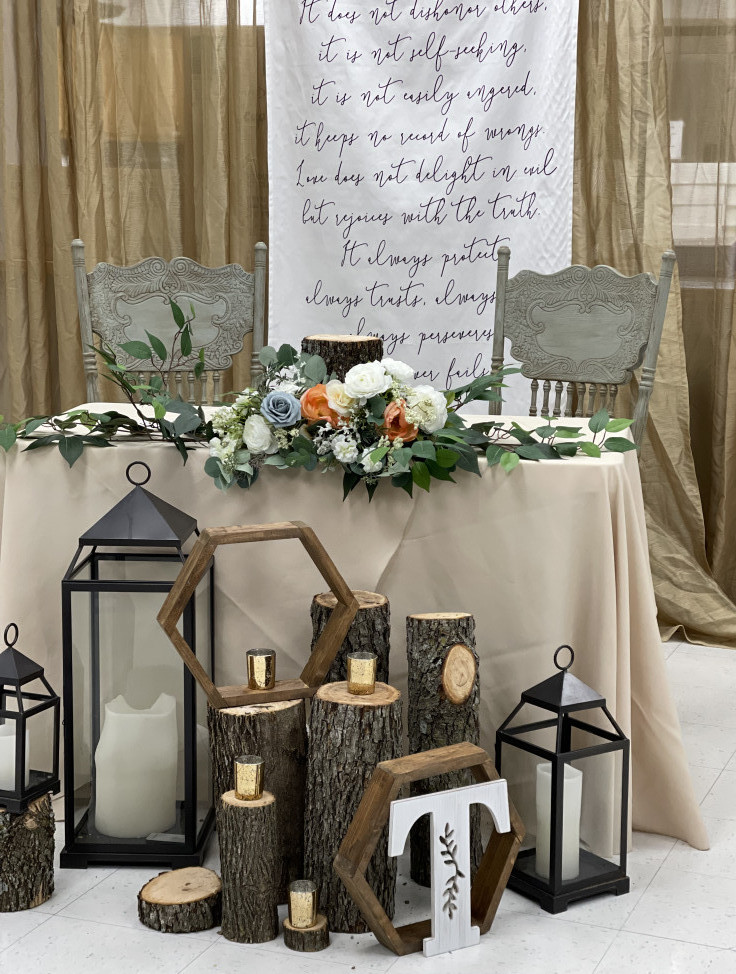 Is there anything better than a wedding?
It's a new start!
A new beginning!
Two people deciding that they will be better together than apart!
I remember when I got married…. after we had decorated the entire day before for the ceremony and the reception. After we bought the cakes and made the punch. After we spent the morning doing my hair and make up. Getting the dress on and buttoning up the back. Making sure my veil was straight and my shoes were secure. After all that preparation and anticipation, I clearly remember standing in the back of the church. After walking down the isle, after saying I do and after the preacher announcing us as a couple, thanking Dusty for marring me. Like I was truly thankful and grateful! I knew that we would be better together than apart!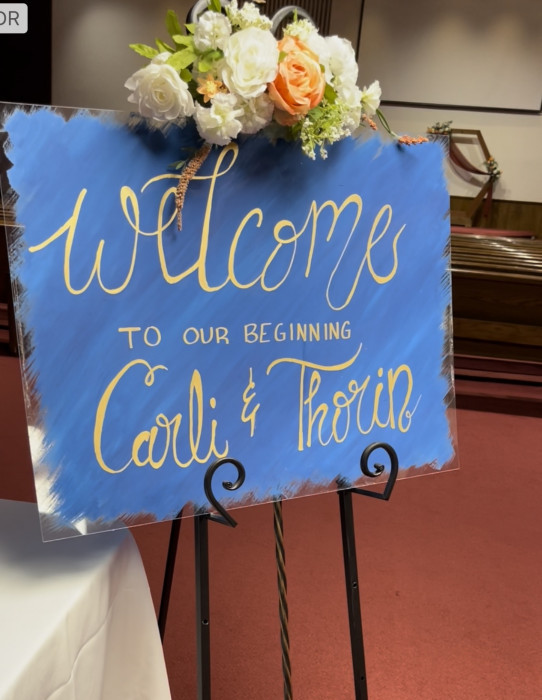 We started with a "Welcome" sign. This was hand painted on a piece of acrylic. This welcomed guests as they entered the foyer of the church . Beside that was a table that we covered with a white table cloth that had instructions, to sign a quilt block. There was the cutest pen holder made out of wood with the Letter T on it for their last name. We had several pens available to sign. This process did take longer than expected and people were still lined up out towards the door before the ceremony started. At 10 minutes till the ceremony started we stopped people from signing and moved the quilt blocks to the reception so people could sign there. We wanted to keep the ceremony on track and if we had waited for people to sign it would have disrupted the ceremony with people coming in after it began.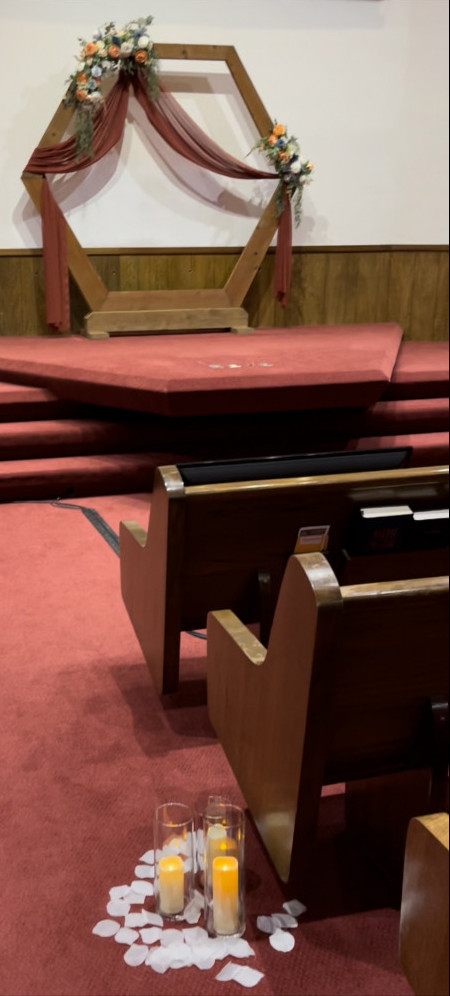 We lined the isle with 3 different sizes of cylinder vases and inserted battery operated candles in different sizes in each one. Then accented each of the cluster of candles with loose white flower pedals. They surrounded them about every 3 pews going down the isle. We staggered them on either side and it really was pretty and it looked like the isle was nicely decorated.
The stage had an octagon backdrop. It was borrowed from another friends wedding and we just embellished it with artificial flowers and some material that was draped. Everything was attached to the octagon by zip ties. Nothing else was on stage except the bride and groom. It was super simple but very elegant.
After the ceremony everyone made their way to the fellowship building for the reception.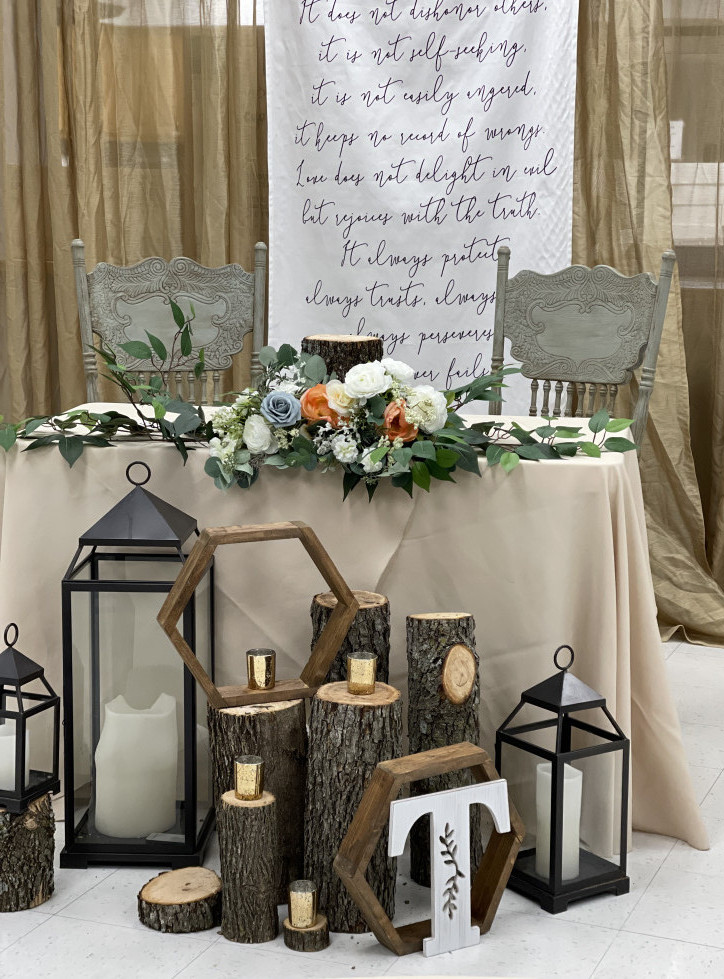 The first thing that greeted everyone was an area that was directly across from where the newly married couple entered the building. After the emcee announced the newly married coupled everyone stood and clapped and greeted them as they walked in. They made their way directly to this sitting area where there was a treat and some punch waiting for them. This area was mostly made up of logs that the brides' dad had cut up. They were all different shapes and sizes and we just mixed and matched them. We also added some lanterns I had from home, small votive candles, and some octagons that had been previously made for a wedding shower several years ago. (I just can't get rid of stuff that I could reuse)!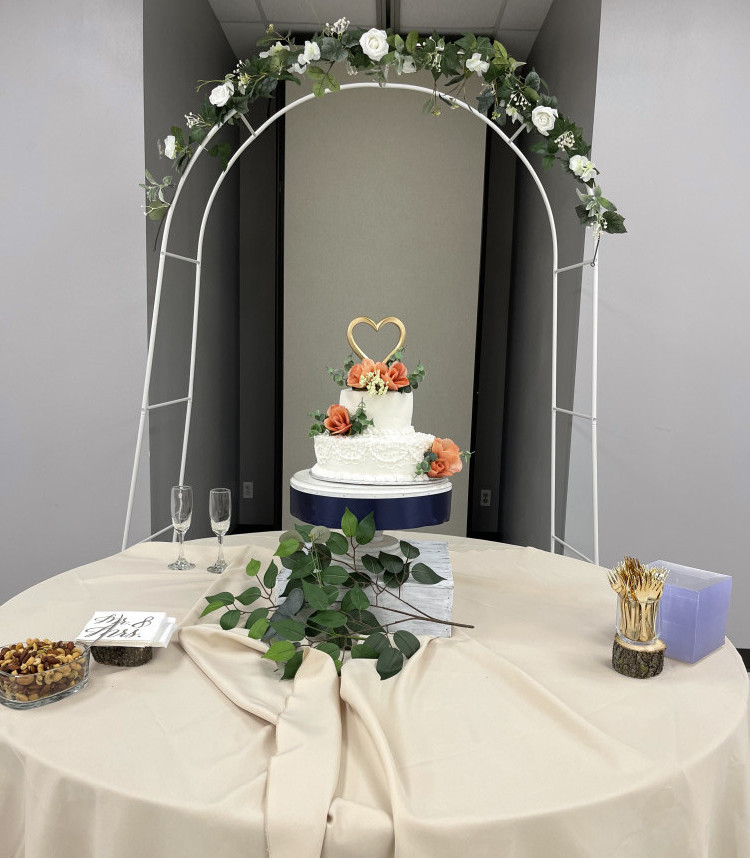 Another area was the cake table. We purposefully put the couple table, the cake table and the drink bar on opposite ends of the room. We wanted the traffic to flow and not to have many bottle necks of crowded people. .
The cake table was set up to feature the brides' cake. The cake was small so we put it on a cake pedestal, but it still didn't look like it was the feature point of table. So I used another square cake stand and put the cake pedestal on it. I thought it was the perfect height! This picture doesn't show it, but we added the brides' bouquet. As she walked in and after everyone greeted them, we whisked the bouquet and put it in front of the cake stand and it was stunning! I wish I would have gotten a picture of it!
There was a grooms cake however it was a square sheet cake. So we took a picture of it and then cut it up and had it ready for serving after the bride and groom did their cake cutting and serving each other. So it cut down on the stress of having to cut up 2 cakes and having people waiting on both of them.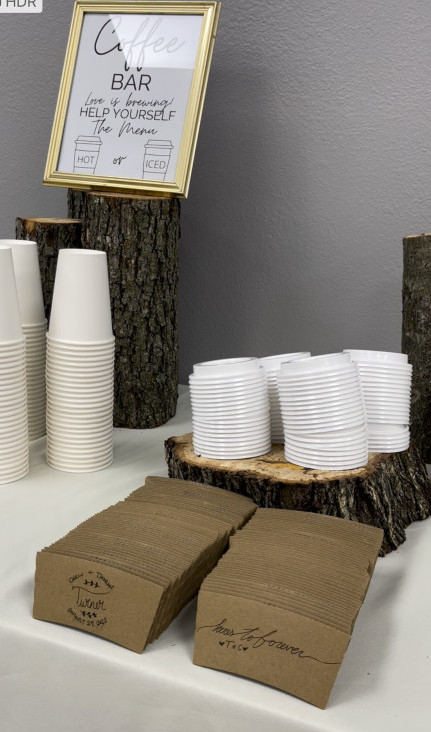 The drink station had Hot & Iced Coffee plus the brides' favorite, pink lemonade. The bride had hand wrote on the cup sleeves and they were super cute! Adding the wood pieces for different accents tied the whole look together! It added different heights, it was free decorations and it was very simple but added a lot of character to each area! Signage is always easy and it always adds a touch of professionalism to the areas. The frames were from the Dollar Tree and can be reused every shower, wedding or event that you host.
So after it's all said and done, they are married and hopefully they both are very thankful and grateful for their day as much as I was when I got married.
Looking for a way to decorate for a wedding? Here are some simple and easy to find materials. What were some simple easy things you did on your wedding day?
Clarie